33 Ideas for Baby Keepsakes – Being pregnant again its got me thinking about all of the memory making activities and keepsakes we have created in the first twelve months or so of Monkey's birth. I am also very conscious that I want to try and replicate these for the new baby, and if I don't write them down then theres a fair chance I'll forget something. Although saying that I had no idea just how many things were going to make the list!
These are the items on our list for the first 12 months – 33 Ideas for Baby Keepsakes
Pregnancy Journal – I wasn't very happy with the pregnancy journal I had for Monkey but this time round I have gone for the same brand as the baby book. The fact that its spiral bound means I can add things to it easily.
3D Scan Photo Album – we had a 3D scan at 30 weeks which I got proper photos from (rather than scan pictures) and put them in a small album
Newspaper from the day of birth – we had people on standby to run out and get a paper for us, especially as Monkey was born at 8.46pm!
Birth announcement photo or card
Baby Book – I am going to buy the same one as I had for Monkey as I loved it so much and found it easy to complete. Plus theres lots of extra pages for sticking photos in. I also like that its spiral bound which means you can add in extra bits too. This is the one we use:
10 Day Old Photos – we had some professional photos taken when Monkey was 10 days old. They didn't exactly go to plan! So much so that we ended up having some more done about a week or so later. These were fantastic and one hangs on our living wall room wall now. I am looking for something similar to compliment it and will be going back to the same photographer.
Clay Footprint Impressions at 5 Weeks – we had these done in a paint your own shop, which I then framed, but you could easily do your own either with air dry clay or similar.
Framed Shoes – I used an Ikea box frame and silicone glue to frame Monkey's first pair of leather slip ons, they now hang in our downstairs loo.
LOVE Picture – which I then made into a Fathers day canvas picture this year by using the letters and some acrylic paint.
First Father's Day present of handprints.  For Monkey's first Fathers Day I made a tree print and used his hands as the leaves
First Mother's Day present of ceramics. You can never have enough items with hand prints and foot prints. Monkey's gift to me was this cute ceramic pot with his footprints on. Of course he had some help with it from Hubby!
Stamps for first year of birth – My mum use to get first day covers sent to me as a little girl and its something I wanted to do for Monkey.
DIY Memory Frame – of some of the more important baby items and the trip home from hospital
Bronzed footprints at 6 months – a gift after the birth was a voucher to get hands or feet cast in resin. We opted for framed footprints although getting the casts took about three of us.
First 6 months diary – Monkey was born mid year and from the moment he came along I started to write. I still try to keep a journal now (sometimes not very successfully). I just used an old notebook to record every detail and it makes interesting reading second time round. By using a notebook you to capture things which don't fit into the baby book. You are not constrained by length and you can just brain dump at the end of a tiring day or the middle of the night during a feed!
Underwater photo – I started taking Monkey swimming at 10 weeks, at around 5 months the swimming pool we used gave us the opportunity to have an underwater photo shoot. Of course I couldn't resist and we have an acrylic block that has sat on our mantle piece ever since. We use the same pool and ever November they run the same sessions. Although this time I may dress baby up in a tutu or superman outfit!
Footprint charm – At six months old I had some cufflinks made for hubby and a charm made for me with Monkey's footprints on. I opted to use a company called Small Prints and was very happy with the results.
12 months of photos in frame – our frame came from Mamas & Papas but there is a space for 12 photos, one for each month of the first year.
Photo Album of Firsts – using a well known online photo copy I complied a photo book for Monkey's first year and had it available for his first birthday party for people to look through. It took a while as I want particularly organised with the photos!
First Holiday Photo Album – we took Monkey to Cornwall when he was 10 weeks old and I scrapbooked the occasion. (I was on maternity leave and had some free time!) Next time round it will be a photo book I suspect.
First Christmas Photo Album – I did the same with his first Christmas.
Christmas Bauble – we made gifts for all the grandparents with Monkey's footprints and hand prints in festive colours. Its a tradition which we have carried on for the last couple of years in one way or another
First Christmas Box. – Still on the Christmas theme. I have box which has one of Monkey's cute outfits in, cards, a list of presents, album, advent calendar.  As well as other Christmas memorabilia from the day.
Christmas Footprint Plate – to commemorate Monkey's first Christmas I made a special Christmas plate which hangs in our kitchen. We happened to be visiting family near Stoke so used the opportunity to drop into the Emma Bridgewater factory since I love their pottery so much. I'm not sure Hubby will go for an over night stay just to get a matching one.
First Birthday Poster – there are some really pretty looking posters on Etsy, however I left it a bit late to order and made my own.
Birthday Book and Questionnaire – I actually completed the questionnaire for Monkeys first and second year, you can find details of the questions by using the link above. I also have a Birthday book for Monkey which allows me to store things such as invites in the paper wallets included.
Mini Suitcase – first outfits, Clarks shoes, blanket, muslin, toy car etc. The fact that it is only small means I have to be very selective over the bits I have chosen to keep. Which is just as well otherwise I would have probably opted to keep everything! I actually completed this exercise when Monkey was three so there was a little more emotional detachment!
Photo Picture Book – I had a board book printed which had pictures  of family members and the cat in to help with recognition.
Things I did first time round which I will not be doing second time round
Pregnancy shoot – I had some lovely photos taken.  I have a couple on the wall at home but there are only so many bump photos you need! I will be taking some for the baby book but nothing professional this time round.
Belly cast – I received this as a gift at my baby shower. As  Monkey was 16 days late it meant I had plenty of time to perfect it. Including covering it with deco patch, it served a purpose as it kept me sane while waiting. However its been on top of the spare room wardrobe ever since!
Things I am thinking of doing second time round
Special 12 month calendar to record firsts. I will probably make my own from downloads off of the internet since the baby is due in May. It is an ideal place to write down a snapshot of first experiences over the first 12 months. It will only take a minute or so a day.
Milestone photo cards – this time round I have brought some photo cards to act as prompts for 'first' pictures. Milestone Baby Cards
I am sure there are going to be others which I think of. I have also complied a pinterest board on storing and creating keepsakes and memories: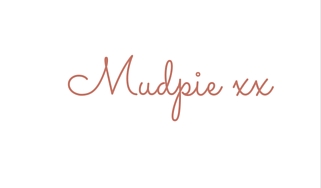 If you've liked this post please follow me on my social media channels:
Mudpie Fridays: Twitter | Instagram | Facebook | Pinterest | LinkedIn
33 Ideas for Baby Keepsakes