Its funny how much you forget between child one and child two! The whole chapter of Monkey's upbringing – 'weaning' I have forgotten! Other than the no honey until 12 months everything else has erased itself from my mind. I don't think it was particularly painful although we did discover a couple of allergies along the way so I don't know why I have no recollection. To save the same thing happening this time round I have decided to keep a diary here on Mudpie Fridays. So welcome to the first in a series around our weaning experience.
I do know we got it right with Monkey as at 4.5 years old he eats pretty much everything you put in front of him and will try most things. Yes sometimes we get the days when he won't eat or just can not be bothered, and like most kids there is always room for ice cream or sweets. But generally we can go anywhere and know he will eat something on the menu, in fact sometimes we have the opposite problem he doesn't want what is on the kids menu instead he wants Nana's Dover Sole… I am hoping that Kipper will be the same.
I have waited until Kipper was 26 weeks old before starting him on any sort of puree. Monkey  started at 19 weeks, partly because I needed to get him weaned before returning to work. I went back when he was just 6 months. As I am taking slightly longer off with Kipper it means I can take our time. Saying that I have been surprised by how quickly he has taken to the fruit and veg purees. I don't think it will be long until we are on finger foods.
With Monkey I spent hours puree individual fruits and vegetables wanting him to have individual tastes and making sure we ticked off a long list of different fruit and veg as we went. A lot of them were never eaten. In fact Hubby only threw away some of those little pots that were still clogging up our freezer a couple of months ago. In some ways a series about his weaning experience maybe more helpful. This time round I think I know it will be different, we will still be doing individual tastes and some home made purees which are not readily available but to date and going forward we will predominately using the ready made pouches. Now I know some of you lovely people will secretly be horrified by this. I am sorry. Initially I felt very guilty about this fact, but after speaking to several mums I know it turns out I am not the only one living with this taboo.
So how are we getting on?
I always give vegetables first – and by that I mean a pouch which is 100% vegetables. Not one which has a high percentage of apples/pears to make it sweeter. As we go on I will not be so selective but initially I want Kipper on veg only.
For the first two days he only had 100% veg, mainly sweet potato and butternut squash varieties which are naturally sweeter. I also only gave him food at lunchtime, but by the third day he was looking for it late afternoon as well.
After this I have started to introduce some pure fruit purees as a second course
I don't do baby rice, so breakfast consists of natural yoghurt with some fresh fruit mashed in i.e. raspberries of strawberries. I never gave Monkey baby rice as I was worried about constipation and have you tasted it?
At the moment I am still breastfeeding first and topping up with food. Saying that by the end of the first week he is having at least 50g of veg and 50g of fruit twice a day and 2 large tablespoons of yoghurt at breakfast time.
He is so interested in what we are eating, I can't see it being long until he is at least trying what we are eating each night.
He is really enjoying it, I love the little noises he makes when he eats impatient for me to fill up the spoon again. Although he struggles with the spoon a little and wants to lick it rather than let me put it in his mouth. Kipper has also developed the knack of blowing raspberries exactly the same time as the spoon goes in!
Some things he has loved this week:
Strawberries are a firm favourite  and he will eat them mixed with yogurt although he does prefer them on their own.
Mangoes
Chickpeas mixed with red pepper and squash
Peach and apple
Sweet Potato
Things he's not too keen on: 
The only thing he really hasn't like is scrambled egg, I think this is more to do with the texture than the actual flavour itself, plus its quite lumpy. It got spat out quite a bit.
Lessons:
The amount he wants to eat will vary between days and meal times. One day he ate so much that we went through 3 full size pouches, the following day he was less fussed and hardly ate a thing
Kipper has only ever had a poo about once a week while being breastfed, food has drastically changed that and I am now wondering if I need to go up a nappy size!
Water! I have dug out Monkey's old dordy cup and have been offering sips of water to Kipper. The first couple of days I completely forgot and he fed on me before and after meal times.
If he isn't keen on something, then try a new taste three times before moving onto the next one.
Next week:
I am looking forward to trying a few more individual fruits and vegetables. Life is not so hectic as Monkey will be back at school, so there will be more of an opportunity to puree some of our own cooking too.
What have your weaning experiences been like? I would love to hear about them in the comments below.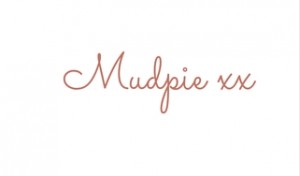 If you've liked this post please follow me on my social media channels:
Mudpie Fridays: Twitter | Instagram | Facebook | Pinterest | LinkedIn