So I am late again with babys ten month update…. Kipper turned ten months over ten days ago. I am glad I started this series though as its lovely to look back on and since I still haven't actually done his baby book… I am thinking I may have to take a day off work to specifically do that! Its crazy how the months become and blur and I am regretting not having written something similar when Monkey when he was a baby. Of course the question is when do you stop doing this? In other news I have given up on trying to get any nice posed pictures of Kipper in his ten months vest as he just loves to move!
Weight – 10.6kg or 23.4lbs
Clothing Size – I have been putting off changing his wardrobes over. But I have now done it and have a bag of clothes which will be made into a blanket for the boys and one which I need to give away. I have found a local lady who will make bears and blankets. We are going to start with the bears and the newborn bits for both boys ..eeek! I have noticed that some of the 9-12 tops Kipper struggles to get in. He is very broad across the shoulder just like his brother. A tad annoying as I brought a couple of lovely jumpers and he's not going to be in them for long.
Teeth – Kipper has developed a novel way to encouraging his teeth through. Last month I wrote about him now having his bottom two teeth but you could see the two top ones under the gum line, they just hadn't cut through. Not satisfied with waiting he decided to use his cot to aid the process and somehow managed to bash his mouth leaving some toothy indents. In so doing split the top of his gum and revealed his top two teeth. Poor mite. Thankfully it looks as though there has not been any permanent damage and they have continued to move down. The dribble is immense though so I don't think it will be long until he gets some more, thank goodness for Funky Giraffe!
Health – So after what seems like an age we have finally started to get to the bottom of his nappies and eating. We had a paediatrician appointment last week and theres a combination of factors. Safe to say we have changed milk and waiting on some medication coming through. It sounds a though he is pre asthmatic. It is called something syndrome but to be honest my brain was going at ten to a dozen and I didn't really take it all in. Hubby did though thankfully. One in three kids get better on the granules. If they don't work then he may need a puffer. I am a little gutted only because we thought we had got lucky with Kipper. Monkey had always suffered with his eczema and allergies and Kipper on the face of things didn't seem to have the same issues. Little did I know, and I can't help wondering if this is all linked to when he was first born and went blue which prompted our little stay in Neo Natal.
Loves – Clapping himself, its hilarious if he does something that he's happy with he sits there and pulls a specific face and claps himself. He loves to climb on you if you are sitting on the floor and has got every good at pulling himself up. Especially at things like the little set of nesting tables where inevitably there is a drink waiting for him to tip everywhere or the TV controllers which also seem to be a favourite. I wouldn't say he is actually cruising yet as he tends to sit down and crawl and then stand back up again. Not quite brave enough to take those little steps along the sofa but I don't think it will be long.
Attention…. You can already see him viving for our attention, if we are cuddling Monkey or reading a story or doing something which doesn't directly involve Kipper he will come and plonk himself in between us. Consequently I am actively trying to have time alone with Monkey so that he can get some quality time. Such as our day out to Paultons Park in half term.
Hates – He still doesn't like not being attached to one of us and will follow you around the house and sit and cry until you do. As he's been so ill and I worry about his chest I pick him up a lot. He still protests on the school run and getting in and out the car but that is starting to get better and he's stop going stiff when we put him in his car seat.
He hates lying still and also has started to insist on rolling while having his bum changed which can make for an interesting changing experience.
Habits – Clapping has really become a habit, I am not sure why as I think he's been clapping since he was eight months but these last weeks he's been really active. Although eating is getting better you know when he's had enough as he hits the spoon our of your hand which is a tad annoying. Especially as nine times out of ten its at me. He has also developed this rather sour face when he doesn't get what he wants and he will push you away with his hand. But my favourite habit has got to be how he reaches for you in his sleep just to check that he's still lying next to you! Is so cute and since he's been staying less with us I really notice it.
Milestones & Firsts – He is pulling himself up on pretty much anything he can. He even managed to do it on a box of soft drink the other day. We need to get the old push along walker out of the loft. He has taken a few steps but is not cruising yet. When he first started he used the activity cube and it was a little nerve wracking watching him as its not really heavy enough to keep him upright and his legs would slowly spread apart.
Development – I need to book in Kippers development check, I don't remember having a 9-12 month one with Monkey? I have noticed that his language has been coming on, we now have dada, mama and baba. I could also swear he said yes the other day or at least a sound that he thought was yes. We were sitting in the lounge and he headed towards the DVD player and we both said no at the same time. He sat on his bum and turned to look at us and I am sure he said yes. The proceeded to try and get at it. He has also started to shake his head in a no movement, normally when I am trying to feed him something he doesn't want. I am trying to teach him up and down so we will see how I get on.
Eating – We have improved. Although he seems to have regressed a bit and has a preference for four month vegetable purees over meat. Although he still likes salty food and will get quite insulted if when our he doesn't get any of my sweet potato fries. We are being lead by him and will offer everything that we eat and letting him pick his own. He is still very much a bread head and will opt for that over everything else. I just hope he gets back on track as I really don't want him to be a fussy eater as Monkey is so goo.
I am still breastfeeding Kipper in the mornings and evenings, this is something which I think I am going to have to give up soon, although I am very attached to it. As is he at the weekends he still nuzzles during the day chancing his luck!
Sleeping – As he's been getting better sleeping has been better. However we are still up normally twice a night with him. This is down more to his breathing than anything else. Although some nights he will have milk others he's not interested. Generally he will wake at 2.30am and around 4.30am. By holding him upright his breathing improves and he will fall back to sleep on your shoulder almost straight away. At 4.30am I normally bring him back into our bed and feed him and he will drop off. Needless to say I can not remember the last time we had a full nights sleep. I do hope that once we have his breathing sorted then at least the 2.30am wake up will stop.
Toys – His favourite thing has been a piece of yellow plastic which belongs to one of Monkey's toys. He will carry it around with him everywhere. I do wonder if this represents how things will be going forward. That Monkey's toys will always be more interesting than his own. He has out grown a number of his toys recently in particular I am a little sad that he no longer likes to go into his Jumperoo. In his little day book at nursery they are always writing about the things he's has been exploring and he seems to like jars a lot! The activity cube has also become a real hit and I hope to get the walker out soon.
Favourite Outfit – I still like the baby grows! But at ten months are really only sleeps in them or wears them to nursery now… sob! We were brought some little jeans which I love and actually fit over her his chunky calves, plus these dinosaur joggers. We have also tried out some lovely two pieces from Blade & Rose and Funky Giraffe.
Things I don't want to forget – The smiles and the way he still comes to me when he wants a hug, no one else will do sometimes it has to be mummy!
Looking forward to … As works settles down a bit I am going to start planning some play sessions on our Fridays or little craft projects that he will benefit from. I have been meaning to make him a taggie blanket for about a month and half now! I am also really looking forward to Easter as I have an adorable bunny outfit from when monkey was small…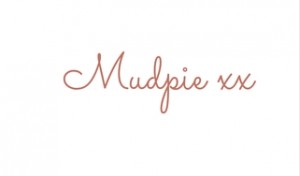 If you've liked this post please follow me on my social media channels:
Mudpie Fridays: Twitter | Instagram | Facebook | Pinterest | LinkedIn