In Kippers ten month update I talked about taking a day off to do Kipper's baby book… well tomorrow I have a day off to do just that! And to plan his first birthday! I know every parent says the same thing but I am totally amazed by how quickly these last few months have gone. Hes adorable at the moment though with his little personality coming through, such a cheeky little thing, giggling and interacting with everyone he comes across. I do wish he would sleep a bit more though as we could do some sleep.
Clothing Size – Just about in the 9-12 still but thats more to do with the fact we haven't fished out the larger sizes yet. When I picked him up from nursery today he was literally bursting out of this baby grow, although it did look quite cute. He wasn't bothered by it either, happily drenching himself with some water play. The only problem with getting the next size down from the loft is that I think they are more Autumnal that we will need so this could result in a little spending spree – yay! You would think that just under two months in the calendar year between them we would get away with it but physically they are quite different. Kipper is much stockier than Monkey ever was.
Teeth – We still only have the top and bottom two. Thankfully his little trick last month doesnt seem to have affected his teeth! He keeps running his tongue over the bottoms ones at the moment which makes me think he may have a another one on the way but he wont let me close enough to see.
Health – Damn conjunctivitis. I really don't remember Monkey having such issues with it when he was little but I think Kipper is contracting it every other week. No longer have we stopped one lot of eye drops than it appears we are on another set. We received the medication for his hyper restrictive airways and it did include a puffer. Which surprisingly he has taken to well. I am not so keen on one of the tablets though, as we have to try and dissolve it in water and administer by syringe. Which he's not keen on. I'm also yet to see any marked improvement so we will see what the paediatrician says at our next appointment. Other than that he's fine and thriving.
Loves – Moving, the more the better and he's started to explore toys more on his own when he's standing up. I do feel really sorry for him as he struggles sometimes because he is being moved from one place to another in the car and in the buggy constantly and he doesn't get a chance to crawl around. He's pretty quick when he gets going and likes to try an climb the stairs, not that he's got further than step two thankfully. He particularly likes to hit things normally with his wooden spoon or little hammer although has also got a bit slappy and likes to slap us as well.
Milk. Despite the fact he should now be reducing the amount of milk he drinks he's actually going the other way! Bath time, especially now he is moving he likes to move up and down the bath
Hates – Lying still which I think is going to be a regular theme from now on in. He doesn't not like being involved which means that he tends to ruin most of Monkey's games bulldozing in whenever possible.
Habits – Not sleeping, I even struggle to get him to drop off during the day, by bedtime he's so tired that he will fall asleep having his bottle only to wake up a couple of hours later looking for food. When he does sleep he always sleeps on his front now. I remember they say you shouldn't let a baby sleep on its front but he's so much happier. Plus we have an angel care monitor so that gives me some piece of mind.
He won't let you help to feed him anymore, now he's completely off breast milk he holds the bottle completely on his own. If you offer some assistance espically when he's laying down in his cot having his night feed he gets quite grumpy preferring to suck at the thin air.
Kipper has also started sticking his tongue out a lot, I hadn't realised until I looked back over the photos and saw them all!
Milestones & Firsts – He has started to stand up unaided although he doesn't last long at all before sitting himself down but its interesting watching him progress a tiny bit each day. I have tried to walk with him but he's not keen preferring to drop to his knees to crawl.
Development – So I still haven't booked in for his development check… #mummyfail. But to be honest I can't see any problems other than the over reliance on milk and the lack of sleep. His word sounds are coming on really well we have a distinct, mama, dada, baba, ta and something that sounds a bit like Hi and Bye. He is forever chattering away to himself, I can always tell when he's had a good day at nursery as he sits in the back of the car gurgling away. Its so lovely. His play has definitely taken on a new level too watching him intact with the other babies at nursery and hearing about how he likes to chase the big rabbit around in farm school.
Eating – We have improvement I talk about it over in my my recent weaning update. However he is still very much a puree baby, not really wanting to hold or eat his own food … unless its bread of course. I am not sure if this is because we have been put back because of his illness. He still likes to try new tastes and is particularly keen on lamb burgers and sausages which we had over the weekend. Monkey's favourite meat was lamb too. We have also been trying out some dairy free yoghurt which is also going down a treat, although the jury is out on whether he is sensitive to soya as well.
Sleeping – Just as I think we have cracked it, we have a week (yes people a week) of no sleep. Needless to say my productivity has hit rock bottom and I have suitcases under my eyes. We have not changed anything so its just something we are having to work through. I know that. He likes to come into our bed and sometimes Kipper will curl up next to us and go to sleep. Yet the majority of time he will throw himself around the bed for about two hours, head butting you in the process. Unable to settle. Then eventually he drops off just as the alarm goes off at six….
Toys – Spoons and hammers and anything that allows him to hit things score highly in Kippers favourite toys. Generally the targets are pots and pans, as well as the Sensory Pat Bags which I made as they make a great noise. Hes going through a stage of shaking anything which makes a noise be it wooden blocks or little home made ones. I got the Grimm Rainbow out last week and he's been fascinated with it ever since. Much to Monkeys annoyance. Its made me realise we need to get the other toys down from out of the loft.
Favourite Outfit – I have been careful not to buy anything new recently as my extended maternity leave took a little bit of a toll on my bank balance. He has been wearing a cute little pair of jogging bottoms with dinosaurs all over them and these gorgeous t-shirts from the Bunting Tree which always get comments wherever we go. Although I *may* have purchased something very special for Kippers first Birthday!
Things I don't want to forget – His face when I pick him up from nursery, the smile and the way he put his head against my chest when I hold him…almost to say I missed you mummy its nice to see you… The way he laughs when you catch his ticklish spot.
Looking forward to … spending time with both children over Easter and planning a personalised celebration for Kippers first Birthday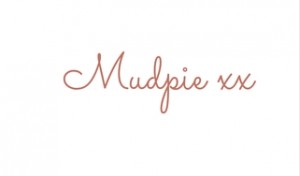 If you've liked this post please follow me on my social media channels:
Mudpie Fridays: Twitter | Instagram | Facebook | Pinterest | LinkedIn