Baby's thirteen month update: is it possible for the second year to go quicker than the first? Of course I have now run out of those gorgeous little vests with the printed numbers on. I am toying with the idea of making my own. But since I haven't got round to the baby book yet…
Clothing Size – same as last month Kipper is in some 12-18 some 18-24 months! Its the shoulders he is so broad that some things we need to size up on. He looked very cute when we went to Eurocamp in France with his little short rompers on. I do like buying a few new bits for him. His colouring is very different to Monkeys and so somethings just don't look right on him. I got told off by the girls in nursery because I sent him in a pair of jeans this month. Although thankfully they approve of the rompers.
Teeth – We've had a couple more teeth join us since last month, his top right insiser is now though and the left one is starting to make an appearance. But he also has the bottom right and I can see a little blister appearing on the left, so I don't think that one will be long either. He doesn't seem to dribble like Monkey so I didn't even realise the bottom one had cut straight away. Although he is obviously amazed by it running his tongue over the bottom of his mouth constantly.
Health – The hot weather has meant that Kipper is a lot more wheezy, I do sometimes wonder if the inhalers help at all. Not that he's overly bothered by it.  Although I am as he gets more and more on his feet it will become more of a problem if we can't get on top of it. The heat has brought out a tiny bit of eczema and he seems to be suffering a little from hay fever. They are all linked so it does make sense.
Loves – Falling asleep with his milk bottle! This seems to be a reasonably new thing but he's got quite attached to it, and will more often than not wake up if I try to remove it from his little hands. So I have given up and let him use it as a comforter. He's such a chunk that it sort of suits him!
Standing up and walking! He's still not fully up on his feet (see below) but he does love trying and you can see a real desire in him now to do it. He is very pleased with himself when he walks a few steps laughing to himself as he does it.
Being picked up, when he wants a cuddle he holds his hands up and squeezes his hands in and out. He always rewards you with a cuddle laying his head on your chest going awwwww. I don't know about Kipper but I love this!
Monkey has a little blue foam chair which he got around eighteen months, he has very kindly given it to Kipper (although reserves the right to sit on it whenever he wants), who is totally obsessed by it. Often climbing on and looking like the king of the castle – extremely pleased with himself. Although he is a bit of a climber in general and has come off the back of it a couple of times.
Water in any description and was totally in his element while we were away. He kept pointing at the splash pad while not the veranda. When we did take him over to get a better look he was so pleased, he totally loved watching the water come crashing down. I have a feeling we maybe raising another fearless little boy.
Steps!!
Hates – Theres a jealous streak appearing in Kipper and he does not like it when I give Monkey a hug or if he sits on my lap instead of Kipper. He pulls a face and snorts before holding out his arms and grizzling. Now he can move he is not a fan of the buggy or car seat, his relationship has always been tenuous with them. Although he's not stable enough on is feet yet and can't walk too far without dropping to his knees. So it can seem a bit that he's moving from one to another constantly especially when we are out with Monkey. I think its probably going to get worse before it gets better.
Habits – Naptime in the day is still a bit of a hit and miss affair and this is now the same at nursery with the girls trying really hard for a long period of time to get him to drop off.  If he doesn't like something he will screw his face up and snort at you, which I really need to try and get a picture of. He's also taken to singing himself to sleep (when not in his cot!!), he is very much a child who will drop anywhere and will keep going until he cant physically keep awake.
Rather annoyingly from our point of view he seems to be the child that likes to push buttons, if you say 'no' to something his automatic reaction is to say 'yes' or what sounds like yes to him. Its quite obvious what he means by it. He have started pointing at the things he wants now and expects you to get them for him.
Milestones & Firsts – Im not sure if I can say we are officially walking or not yet! He can can walk across the room and will often walk to you when you pick him up from nursery. Yet he's still inclined to drop to his knees as its less effort and quicker. This is a new experience for us as Monkey literally just got up one day and walked. So we've not really experienced the in-between stage before.
We has our first holiday to France and therefore long car journey which he coped really well with. He played on the beach and in the sea for the first time. He also really enjoyed his little pool seat floating around happily.
Development – His personality is still developing, he's so funny a really cheeky little thing. He is starting to communicate more and trying to form words. Albeit sometimes its difficult to try and work out what he's saying.This is something I want to start working on with him. Monkey was an early talker and his vocabulary is still very good compared to this peers. I think this is simply because we spoke to him all the time. We still do, which means Kipper can get a little left out of the conversation and we are not consciously pointing things out to him. Yet again another curse of the second born.
Eating – We are still on four bottles, despite trying to drop one. The nursery are keen to get him off of bottles onto milk as such. But we need to experiment with different types so I am loathed to do anything at the moment. Food wise he eats whatever we have now and will try anything, you soon know if he's not keen pushing it out with his tongue with a disgusted face. He doesn't like being left out, ice cream is an issue which has become more apparent in the hot weather. We have tried some lovely soya ice cream which I actually prefer but it seems to have created the same diary reaction. Monkey has been having ice lollies when he comes home from school and Kippers not impressed if he doesn't have the option to join in too.
Sleeping – Do not get me started on nap time… but night time is not bad. He's been badly affected by the heat taking quite a while to drop off in the evenings. But once he's asleep he stays asleep. Now all I need to do is break the habit of him coming into us about 5.30 in the morning. He comes in for snuggled and will generally drop back off again. I can't blame him some times as this can be the only time we get with nursery and work together.
Toys – Kipper has finally started to discover his treasure basket more pulling bits in and out and moving them around the house. There is a little mettle heart with chime bells inside which seems to be his favourite at the moment. He's also enjoying his glitter wands, but I am not sure if this is because he just enjoys hitting things with them. Starting to develop the desire to put things in and out of containers he also really enjoys the Tomy plastic eggs which break in half and fit into a yellow egg box. His Uncle also brought him a soft tool set which has some nuts and bolts, he will spend ages putting them together and they are useful when we go out for dinner to keep him entertained.
Favourite Outfit – Im holding onto the babygrows at bedtime! I brought some new duck ones for our holiday which I love. Clothes wise I think it has too be the matching shirt I brought him and Monkey. It has a dark blue holiday pattern on it and they looked very smart in them. Of course I couldn't actually get a picture of them both looking at the camera!
Words – Ready Steady go….
Things I don't want to forget – Kippers face as he walked across the nursery room when I picked him up. His face was a mixture of excitement (at waking) and happiness (to see me). Priceless. Then when you pick him up he leans in and goes ahhhh.
Looking forward to … seeing him dressed up in his superhero outfit for Monkey's Birthday Party.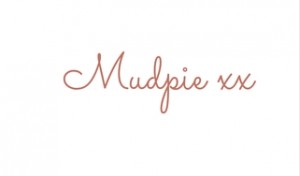 If you've liked this post please follow me on my social media channels:
Mudpie Fridays: Twitter | Instagram | Facebook | Pinterest | LinkedIn