Baby's fourteen month update: I am a little late with this months update since Kipper actually turns fifteen months in a couple of days time. Yet I love looking back on these posts to remind me of the things he gets up to. I am sure its inbuilt in you just to remember what they are like in the here an now to ensure the continuation of the human race. Especially as we enter the toddler years, I am under no illusion to what Kipper will be as he gets older. I have a feeling that the word challenge will be a gross understatement.
Clothing Size – I had been secretly putting him in 9-12 month trousers as his legs are a little on the short side but this month I decided to pack/give them away. So we have seen an influx of  12-18 month jogging bottoms. Its funny as Monkey always wore dungarees but for some reason they just don't suit Kipper. I think he's too short and gets hot so quickly. I always use to put Monkey in jeans but again although Kipper has worn them on occasion he is much happier in joggers. This month I got the boys baby clothes teddies back from the seamstress. I love them but they are a little bigger than I anticipated so I am not sure where they are going live and Hubby has banned them from the bed!
Teeth – Kippers teeth have doubled! We now have all eight front teeth and the four big molars, I don't think that they are far back ones but second from the back. We've had a couple of nights where sleep has been sorely missing but other than some calpol he's been fantastic with them. He doesn't have the dribble that Monkey did and he won't take teething crystals. I think this is because he has powders every night for the asthma which he doesn't like so associates the two.
Health – Now he's up on his feet I really notice that his asthma is more prominent and he's very rubbly. He's getting better with taking his puffer and will sit and breathe in now. Its taken a while to get to this and he will sit and count to two as well!!
Loves -Running, he's finally got very mobile although still a little wobbly and has that typical toddler job but if he sees something he wants he's off. And he's quick. Like getting out the lounge door and up the stairs. He loves being outside and will stand at the kitchen patio doors that lead out into the orangery wistfully looking out. The other day he came home from nursery and the back of the house was wide open. He squealed with delight and headed outside following the cat.
Swings are his favourite thing when it comes to the park, he's so happy to be in one. I know all mums say this but he has the cutest smile and giggle.
Everyday when he gets in and in the morning if he gets a chance he asks for a banana, he's getting quote good at making himself clear. Although he can't say it, he points profusely at them until he gets one.
Hates – Doesn't like it when you feed him, he has decided he needs to do it. Although he's not quite there on getting it all in his mouth which means every meal time we end up with food everywhere!
Habits – Oh the cupboards and draws he loves them and will open them all around the house. He is also quite partial to various things around the toilet! He will quickly empty the utensil draw given half the chance and will play with Tupperware. He still likes to carry around the things he retrieves banging surfaces as he goes. He also likes to annoy his brother going in to wreck his creations and steal his lego. I do think a lot of it is planned, he knows he's winding him up!
Milestones & Firsts – In Kipper's fourteen month update I couldn't commit to the fact he was walking, but now he most definitely is. Although he's still toddling he doesn't need his hand holding and actually prefers for you not to. That couple of weeks from not walking to walking where you spend your time bent over helping them already seems like a distant memory. Although I particular trip to Legoland will also stick in my head as he really wanted to get into the puddle….
We brought his first pair of proper shoes a size 4G from Clarks. Although they no longer do the polaroid first shoe picture so we had to take our own. We ended up with a couple of
Development – Oh he really is a cheeky monkey! He's discovered that he can climb on the high chair and onto the big chairs. He will sit and wait for you to get hold of him. Normally saying ready steady (although it doesn't sound like that obviously). He has also realised that he can climb up Monkey's slide on his bed. Thankfully he has also realised that once he's at the top that he needs to cry to be picked up and put down.
He's getting more and more independent and wanting to feed himself. Thankfully the need to move as soon as you change his nappy is subsiding and he will wait until the new one is now on.
He is so chatty but still not necessarily coherent. He does answer questions and try to engage and it is obvious that he understands more than he can say. He likes to cuddle and has finally worked out what a kiss is and will lean in and try and give you one if you ask him to. His favourite nursery rhymes are row, row and twinkle twinkle. He will sing along an if you listen you can hear some of the words form. Sometimes he even starts them himself.
Eating – We are still on four bottles, despite trying to drop one!! Baby food has been and gone, only non packaged food will do. Yogurt is still a favourite, as is brioche and banana for breakfast. He's not a fan of sandwiches. But loves anything rice based and the more flavour the better. Vegetable wise he is not a fan of many of them and will often take them out of his dinner. But he will try almost anything you put in front of him… apart from avocado.
Sleeping – I know this is going to fate things. But we have seemingly got into a habit, instead of staying in his room with him while he has his last bottle we say goodnight and give him some kisses and then leave him to it. The door has to be open and he needs to be in his sleeping bag with at least one dummy in the cot. If this all works then generally he will sleep without the need for one of us to hold him or stand with him. He has even started to self settle.
Toys – Toy wise he's still loving everything from his last update. Although he is also a fan of a flat ball which given half the chance will carry it around wherever he goes. He likes a spinning top and a jack in the box we got him for his first birthday. This week he has started building with building block, putting three or four bricks on top of each other before knocking them down. This has taken us both a little by surprise as we always compare him to Monkey.
Favourite Outfit – Still holding onto the babygrows but I haven't brought any new ones although I have fallen in love with some recently. I think he is going to be in them until he's about two at this rate. No PJs here! We have had a significant lack of trousers the last few weeks and I think this is because we are not in dungarees which is all we have from when Monkey was little
Words – Row, row, twinkle, twinkle – Charlie and Harry
Things I don't want to forget – Kipper has started to give kisses which is lovely and how he (sometimes) snuggles up to us in bed in the early hours of the morning. And then promptly tries to throw himself over you and onto the floor….
Looking forward to … booking our Summer holiday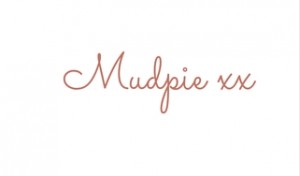 If you've liked this post please follow me on my social media channels:
Mudpie Fridays: Twitter | Instagram | Facebook | Pinterest | LinkedIn