Over the Christmas period it occurred to me that I am actually only eighteen months away from turning forty. This could have been because of  a rather late night alcohol fuelled conversation with a good friend who I use to go to school with. In said conversation we decided to go away on a girlie weekend to celebrate our fortieth together. It also spurred me on to write my own 40 before 40 bucket list. To me forty is old, I know I won't feel like that when it actually happens. I will convince myself that forty is in fact the new thirty. But today as I write this I still fell like I am twenty one, albeit a little wiser! Forty is my head is all about being grown up and responsible. I remember my dads fortieth Birthday party in my school hall. I remember the rainbow banner I made his which took forever to colour in and how there was more felt tip on my hands than on the paper. I remember thinking dads old….. and now its my turn!
As much as part of me feels the need to grow old disgracefully…. going out until the early hours of the morning, getting dressed without looking in the mirror and basically pretending to be at uni again. The mother in me knows that I need to look after myself and grow old gracefully. But that doesn't mean that it can not be fun!
"You don't stop laughing when you grow old, you grow old when you stop laughing." George Bernard Shaw
Some of the things I am starting to think about more as I enter my fortieth year are pretty much common sense. But it is time that I stoped and paid a little bit more attention to:
Diet – I am an adult I know whats good for me in the food department and whats not. As well as eating a balanced diet I am reducing my sugar intake. I had gestational diabetes with Kipper so I need to start watching what I am eating more since I am more likely to suffer now as I get older.
Supplements – I know some people agree and some don't but I am starting to take a probiotic to help my gut and my skin. I am also going to consider a calcium supplement and vitamin D
Have an MOT – as I enter into my fortieth year I am going to have a annual MOT health check through work. Just to make sure I am as physically fit as I can be and get annual advice on things which if I implement now may help me in the years ahead.
Go back to the Chiropractor – When I was pregnant I use to visit regularly. I think its time to put a six monthly check up back in my calendar. Hopefully this will stop any problems before they begin.
Exercise More – although we are out pretty much every weekend with the boys running around in the fresh air, I want to start some sort of daily exercise routine. Nothing overly time consuming but we are hoping to move and with a little more room I maybe able to squeeze in a cross trainer.
Yoga – I love! But I very rarely get a chance to go. There is a local class to me which is a drop in so I am going to try and go once a month. The way I figure is that going a little is better than not going at all!
Sleep More – Spend more time relaxing and making sure I get my quota of sleep – one can dream right?
Look After My Skin – Make sure I spend the time morning and evening on my skincare routine (which is literally just five minutes)
Look after My Teeth – They are starting to move around and I even have a wisdom tooth appearing. Maybe you really do get wiser in your old age? I intend on getting my teeth set and whitened since apparently your teeth can make you look older than you are.
Be Aware of the Menopause – although I may have a few of years until symptoms start to present themselves. Its important to understand what that may look like. If I am honest its a bit of a taboo subject – feminine intimate health. We are not very good at talking about it, which I find semi hilarious since when we have children all manner of doctors, midwives and consultants know about our intimate health in more ways than one. One of the symptoms is Vaginal Dryness by raising awareness and discussing these symptoms it will help us all make the right decisions for our bodies. Including using a simple treatment such as a water-based intimate moisturiser such as Canesintima®.
"The beauty of a woman is not in a facial mole,but true beauty in a Woman is reflected in her soul. It is the caring that she lovingly gives, the passion that she knows."

"And the beauty of a woman, with passing years only grows!" Audrey Hepburn
There are so many positives about getting older – I feel more secure in myself, happy in my life choices, financially stable (although I am still longing for that financial freedom goal), I know who I am, what I am, what suits me and what doesn't. What makes me happy. I am strong enough to walk away from things and people that challenge that happiness. I know where I want to spend my time and don't waste it. Mentally I may feel twenty one for the next thirty years but its time to make sure I spend a little time and effort looking after me. So that when those two horrors of ours have their own families I can still run around after our grandchildren and help our boys with the burden of parenthood.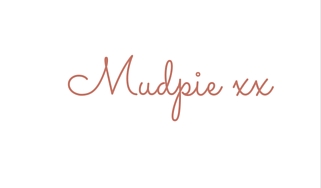 If you've liked this post please follow me on my social media channels:
Mudpie Fridays: Twitter | Instagram | Facebook | Pinterest |LinkedIn
This is a collaborative post and has been supported by Canesintima®, but all thoughts are my own.