The weekend seemed to go by in a flash again. I think that it was mainly because I was a taxi driver for Monkey as he had three parities to go to. It did mean we didn't have any day trips out or much family time. This week at work I have had my annual conference which saw me stay away from home. So this coming weekend I am craving some family activities that we can all get involved with.
Read
I have done very little reading this week, although I have bee carrying around little book which Laura at Dear Bear and Beany recommend. Read This if You Want to be Instagram Famous £7.99 on Amazon. I have managed to flick through it on my travels and Ive started feeling a little bit more inspired with Instagram again. Although I am still not back to posting every day. Maybe by the time I finish the book I will be.
Watch
For a long time Monkey has had a thing about fossils. I honestly think he may turn our to be a palaeontologist when he gets older. His grandparents took him to the Jurassic coast last Summer. So when we heard about David Attenborough and The Sea Dragon we knew it would be right up his street so we recored if for him. We finally got round to watching it at the weekend, curled up on the sofa under a blanket. I also much prefer to be watching this sort of programme to Paw Patrol or Blaze and The Monster Machines. We have made our own fossils for a school project before, which are really easy to do if you also have a little person who is fossil mad.
We then went on to watch The Real T-Rex with Chris Packham. I wasn't keen on the alligators. The idea was to create as realistic T-Rex as possible, Monkey was transfixed throughout. And the best bit…. no annoying Dinosaur Train song every twenty minutes!
Heard
I wanted to listen to some podcasts but with it being my first week back at work I should have know I would struggle to fit them in. But I did hear lots of laughter and high jinks at the parties which Monkey went to last weekend. Its nice watching him with his friends, he has a lovely little friendship group developing.
Made
Monkey and I made Mudpies in the garden at the weekend. Its been a long time since we have done this. Probably not since Kipper was born. He had a whale of a time and it reminded me that I need to set up invitations to play more often.
Wore
I treated myself to a new jumper in the Selfish Mother sale, I have been lusting after one of the jumpers instead of a sweatshirt for a while. So I decided to treat myself and I love it. It has a little bit of gold thread woven through the cream 'Mother' which makes it a little usual. I have already had several comments on it an I can see me wearing it loads. I am also trying to be good and not buy anything more of course I cant promise that other items may not pop up in future posts. On another note how pretty are these roses? The colours are so unusual.
And Lastly…
With Hubby's birthday this weekend we are off out in Brighton for the night, restaurant is booked, hotel is booked so all that remains is picking an outfit and getting my dancing shoes on…
What are your #LittleLoves this week?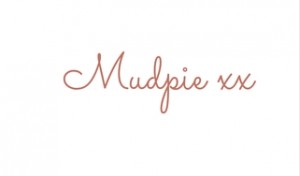 If you've liked this post please follow me on my social media channels:
Mudpie Fridays: YouTube | Twitter | Instagram | Facebook | Pinterest | LinkedIn
Linking up with coffee work sleep repeat.