DIY Framing First Baby Shoes – Anyone who is a regular reader of Mudpie Fridays will know that I have a thing for Keepsakes. Something that has been on my to do list for a long time. But I've never managed to get round to, is framing Kippers first baby shoes. Figuring that I was too busy I enquired about getting them done professionally. It turned out to be a lot of money. A lot more than I was expecting so I decided to try myself.
The first time didn't go so well as I thought a standard box frame would work. Turns out that despite being soft and squishy babies shoes are actually quite high around the heel. In the ended I settled on a deep box frame from Amazon which cost £14.99. I also brought a pre-cut photo mount online which cost £1.99. Which meant I saved about £53.00 each!
If you are thinking of doing this yourself other things you will need are a 30cm ruler, pencil, rubber, scissors, sellotape and some good quality glue. I opted for silicone because I know that once it dries it will hold really well. I have used it before for ceramic tiles in frames. Plus it allows for a sneaky bit of repositioning and movement if needed.
Step One: I need to trim my photo mounts to size as it turned out I hadn't taken the thickness of the frame into consideration. If you brought the same frame as I did then you need your mount to be 27.5cm square. I had a 15cm square appeture in the middle.
Step Two: I used my little hand held vacuum and hoovered the inside of the frame to make sure there was no dust or little bits of chipboard in there. I then put in the mount and used tape to to secure it to the sides so that it gave that box effect. You could just attach it to the mount board if you would like.
Step Three: The frames come with a substantial mount board backing so I cut a piece of scrapbook paper to size. I decided on white to ensure that the frames stayed an light as possible. I secured this to the back of the mount board using silicone glue. Use the end of the tube to spread it very thinly so as not to leave bumps in the paper.
Step Four: I then marked out the corners of the aperture using the ruler, leaving a very small dot. That way I could get the shoes in the centre of the frame. I used silicone to glue to the shoes to the covered mount board. Then I placed the frame over the top so I was happy with the position. If not I gave them a little wiggle to get them in the right place. I left the glue to dry overnight.
I think the finished result came out quite well!
Have you framed any of your baby's or child's memorabilia?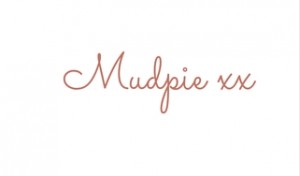 If you've liked this post please follow me on my social media channels:
Mudpie Fridays: Twitter | Instagram | Facebook | Pinterest |LinkedIn