AD – This post is written in collaboration with nutella, I have been compensated for my time.
Happy Portion of Family Time with nutella: If you have followed us for a while then you will have heard me talk about the constant juggling act of parenthood. With both of us being working parents and in demanding careers sometimes it's easy to feel like you are on a treadmill of routine. Running from one thing to the next. 
When I was growing up meal times were very important. We would all sit down at the table and eat together, discuss the day ahead or what had happened that day. There would be no television or distractions – it was our family bonding time. It is something I had always wanted for my own family but sometimes it can be hard to make the time to make this happen. 
Determined to try and address the balance we have been making a conscious effort to have breakfast as a family. It's the one meal of the day where we are generally all in the house at the same time. It also doesn't need to take up lots of extra time. According to leading family psychologist Linda Blair, leading family psychologist, just fifteen minutes is enough for  a 'Happy Portion' of family time at breakfast. We have been putting aside chores, screens and to do lists to make time for each other. So what is the formula for a Happy Portion of family time?
Formula for a Happy Portion
Formula for a Happy Portion
Preparation: 5 minutes
Serving time: 15 minutes
As many of the family you can get together (heights may vary)

Delicious balanced and varied breakfast to motivate everyone out of bed

0 servings of phones or devices during breakfast

1 reflection each on a positive memory from yesterday

1 goal set for the day ahead per person
Our experience has been great. Having a couple of questions has meant that we have had conversations that have gone past the 'fine or whatever' stage. Something Monkey has seemingly found himself in despite only being seven. Asking for a positive memory gets the boys talking more and we actually find out what's been going on at school!
Of course Kipper's goals for the day tend to be to play in the stream, balance on the ropes and drive the camper van at nursery. Whereas Monkey likes to aim to come first in the daily mile at school and swap Pokemon cards at lunchtime. No matter how trivial these little insights into their lives when we are not with them bind us all together. It has also helped with communication at pick up time too which is a real win considering how tired they normally are.
I have noticed that its made mornings before school and work a much happier experience. The boys argue and fight less with each other and I have become less shouty. Surprisingly it has not changed the time we leave the house in the mornings.
Top Tips for a Happy Portion
Initially finding fifteen minutes in the morning can seem impossible.  So I thought I would share some of the things I have done to make sure we get time together in the mornings;
Making pack lunches and packing nursery and school bags in the evening. So they are ready to grab and go. Normally I struggle with the motivation to do it. Putting it off until the morning like many parents. However, knowing that I can then sit down with the boys and not stress if I do it in the evening has meant I am a lot more organised!

I make sure I get up before the boys which gives me a little bit of time to work through some of that to do list before breakfast happens.

If you do something more than six times it becomes a habit. Which means in as little as a week you can create a new family habit. One that the whole family will benefit from.

Kipper's nursery and Monkey's school uniform is laid out ready, so I am not hunting for socks or underwear in the morning.

I think of fun quick breakfast ideas. Such as the Nutella strawberry hearts featured in this post. Nutella is a firm favourite in our household. Did you know that the recommended portion size of Nutella is 15g (80kcal). Which is the same as one heaped teaspoon and perfect to enjoy in a fifteen minute family breakfast
Visit the Happy Portion website to find out more and try Nutella's formula for a Happy Portion of family time at breakfast for yourself.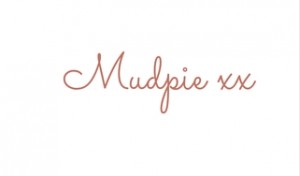 If you've liked this post please follow me on my social media channels:
Mudpie Fridays: Twitter | Instagram | Facebook | Pinterest | LinkedIn