Saturday 28th March
We spent today in the garden. Kipper and I planted up half of some plug plants I had ordered. He was very interested for all of about fifteen minutes. But it was quite cute listening to him talk about the baby plants. I think we also have to accept that Hubby has the COVID 19 virus. At the moment it is only presumed as he has not been tested. He spent the day at the end of the garden looking to start to put the veg beds back in since we managed to get the wood delivered yesterday. Although he wasn't up to much. I moved him into Monkeys room with the boys coming in with me. He really doesn't want to self isolate away from us. So we will just have to keep everything crossed we don't all get it.
The only photo I took all day was this one for an instagram job.
Sunday 29th March
A lazy day for all. The realisation that the husband has COVID 19 is kicking in. Apart from a little pottering in the garden the kids and Hubby spent most of the day watching films. Monkey had woken with a head ache and aches and pains. He fell asleep on the sofa mid morning. Of course I am now worried that he may have the virus. I had also had these symptoms so I may have it too. But only time will tell. Hubby's cough is still nasty and he has lost his sense of taste and smell. There is a suggestion online that this is an early sign. Yet he has had his cough for longer.
I spent the day sorting out the playroom and moving around the boxes which were meant for storage before all of this started. Although we have no where else to put the boxes at the moment I wanted to clear a big space in front of the toys for Kipper to play this week. As the weather is turning so they will not be able to spend so much time outside this coming week. It was ridiculously windy outside and I thought it may blow the new plants over. I had hoped to pot up the rest of the plug plants but it was too cold. Instead they are now living on the kitchen table until next weekend.
Then I spent an hour or so planning the school schedules for the week ahead. Instead of having specific time slots I have decided to write a list of activities for each of the kids. As long as the list gets done then they can  do whatever they want in between. I also found some fossil bits online for free since thats Monkey's project this week. He already loves fossils so I am hoping he will really take to it.
Monday 30th March
Hubby is still going downhill but is refusing to listen to me and is continuing to work through the virus. Although he did finally go for a lie down late afternoon. Monkey seems to still have a head ache and aches and pains albeit I am not convinced it is as bad as it was. Also a slight temperature. He did do some work for school but only his maths. He did the whole weeks maths work in one go in the morning. The rest of the time he spent relaxing and watching tech.  Kipper had a great day in the playroom turfing out all the boxes. It was lovely watching him play. Made all the hard work at the weekend to get it playable worth it.
I had quite a productive day work wise but our IT kit when down mid afternoon which I found extremely frustrating. With Monkey feeling off colour and Kipper entertained we didn't do any extra fun stuff like last week. I have a feeling this week could go that way …
I did start a jigsaw to try and take my mind off of things, it didn't work.
Tuesday 31st of March
So today did not start well when Hubby collapsed on the floor in the bathroom. He should not be trying to work through the virus. After the shock he was okay and I sent him to bed for most of the day. Although cold and shivering when he woke and came downstairs he seems a lot better. I do think that sleeping some of this off is the way to go. But it also seems to be up and down all over the place.  His temperature is still erratic so I can not work out if he has broken or not. Still scared about the whole breathless symptom which touch wood we still haven't seen. I am not normally an anxious person but at the moment I am struggling not to be.
Work was incredibly busy on the run up to tax year end. Which in some ways means I have something to occupy my mind. But on the other hand its a challenge since I am effectively running as single parent at the moment. Homeschooling did not go well today at all. Monkey did his first lesson with no problems but then it went down hill and everything became a battle. One with my commitments today was hard to manage. So very little school work was actually done. With Easter starting next week I have told him anything that the school sets that he doesn't do  will be done next week. It has meant that fun today was very thin on the ground. I was hoping to start making bath bombs… hopefully we will get to it tomorrow.
We have tried to shelter the boys from the virus news. But I can imagine seeing Hubby so ill will upset them and make them uneasy. Even if they do not fully understand. Once it is all over I will sit down and explain it to them both. But for the moment keeping them in the dark to a certain extent I do not think is bad thing.
Wednesday 1st April
I really don't remember very much about Wednesday if I am honest. Single parenting, while working during a stressful tax year end period and home schooling. Plus the added worry about the fact the virus is in our home floored me. I went to be at 7pm after putting Kipper down and did not wake up till the morning.
Kipper decided was more fun colouring his hands than his school book….
Thursday 2nd April
I am not sure if the mammoth sleep is down to the fact my body is fighting the virus too or just sheer exhaustion. When I woke I had a head ache again and aches and pains. I decided against medicating and worked through it. Which probably made me quite ratty.
Hubby came downstairs late morning. Which then forces me to to clean the bannisters, door nobs etc. He can not speak without coughing which makes him loose his breath. I think he's probably lost a lot of weight as well and aged. By but the evening he was moving about and I managed to get him to eat a bit of bland food throughout the day. He read for a bit too, which is a good thing. Although every time we think he maybe over the worse of it he relapses again. He's had symptoms now for a week today.
Work seems to be starting to quiet down as we move past tax year end. I had booked the whole of the Easter period off but have cancelled next week. So that I can try and get a little bit proactive. Anything to keep my mind off contracting this virus. The news was full of normal healthy people dying of it today and when its in the house I really don't need to hear that. I am wondering if the media has a responsibility to stop with all the scaremongering and reporting of rare cases. Surely most people are now staying inside? Thankfully both boys apart from being cooped up are not showing any outward signs. Although they are going stir crazy and finding it hard not to hug or kiss their daddy.
I am still tired but nothing like last night and so far no other symptoms. I keep googling how long it takes to show but I don't think we will really know if the rest of us are out of the woods with it for another two weeks. Although our quarantine officially finishes Friday next week. I just wish we could all test for it. Knowing whether we are carriers of it, or have had it or have yet to have it would at least in some part help. This disease is not just physical it is psychological as well.
At bedtime Kipper asked if we could go and see a whale and a dolphin. I guess a trip to a zoo is required once we can finally go out again.  But in the short term I am going to find some whale and dolphin footage for him on YouTube.
An update on our caterpillars…
Friday 3rd April

If I can be writing next weeks update with the boys having no symptoms and me having no symptoms I will be very happy. If feels a bit like creeping death… just waiting yet still trying to function and work. All the time not letting onto the boys. Although Monkey is not draft and it is starting to affect his sleeping patterns.
I guess today has been a good day, in as far as what we can hope for a good day. Again I woke achey and tired. But Hubby was up and in the shower. He has spent all day downstairs and although still has a cough he isn't struggling to speak and breathe like he was before. We have had a relatively quiet and relaxed day. A friend left some essentials on our doorstep this morning. Which I am very grateful for. I wrote a blog post which I may or may not publish about our experience with COVID 19 to date. It felt quite therapeutic and I felt quite positive afterwards. Although now the old dread is back.
In the afternoon I did a science experiment with the kids to make Borax Crystals. I am hoping it works since one we did with a science kit didn't and Monkey was very disappointed. We won't know until tomorrow as it takes 12 hours to work. Then we watched Tin Tin. Not being able to sit and do nothing I have started a craft kit which I think I have probably had for ten years. It is a felt cushion. I am wondering what else I may have squirrelled away.
Unsurprisingly I have not written any blog posts this week. What with tax year end and living in a state of worry. Lets hope next week is uneventful.
You are invited to the Inlinkz link party!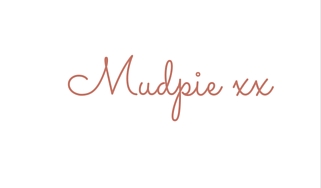 If you've liked this post please follow me on my social media channels:
Mudpie Fridays: Twitter | Instagram | Facebook | Pinterest | LinkedIn