All the days are blurring into one and if I don't take any photos then I can not remember what did we did what. Amongst the work and schooling. I am seriously going to have to come up with some plans for the Summer otherwise I fear our whole year may end up this way. I also read the startling news that when the kids do eventually go back in September it may not be on a full time basis. It does make sense when you think about it  I just hadn't thought about it. And the fear of that juggling act when we are likely to both be back at work fills me with dread!
Saturday 30th May
After our day at the beach on Friday Saturday was a bit of a let down. We had planned on throwing ourselves into the gardening project again. But the weather was so hot that none of us, especially the kids felt like spending time out there. Which consequently meant some plants that I should have put in the ground never made it and have been slowly suffering in the greenhouse.  It did at least force the kids to play together when I turned off all tech!
Sunday 31st May
It was too hot again today even if we took the parasols to the veggie beds. Instead we spent some time in the field opposites on bikes. And Kipper actually learnt to ride, it was the third time we had taken him out of the bike and he loved it. We were very proud of him since we haven't used stablisers at all. I tried to catch up on blog work but again lacking the motivation.  The kids played with the sprinkler in the afternoon and Monkey decided he was so hot he wanted to put his head in a bucket of water?  I suppose it is a quick way to cool down.
Monday 1st June
Back at work. Not so many struggles with home schooling as Monkey could do his maths which he enjoys. Kipper and I finished a stain glass window craft for his room. All the stickers are numbered so its a great way to help him with recognising larger ones. I could do with the same using letters as I am worried with him not going back to nursery that he will not be ready for school and we don't have the time during the day to sit and go through books with him.
Tuesday 2nd June
Other than taking Kipper down the lane to get some pictures with his balloons it was uneventful. Of course getting a picture with the balloons was easier said than done. He decided he wanted to wear his four balloon rather than pose.
Wednesday 3rd June
Some time in the garden after work watching Kipper learn to rollerblade. He loves his skates and wants to go out the front like his older brother. But at the moment he struggles to stay upright. Although he is starting to get the motion on the grass.
Thursday 4th June
Didn't take a single photo today. By the time Thursday comes along I am shattered. The highlight was a zoom call with work which we do most Thursdays only this time we played Scattergories. I have not played it for years and it was really quite funny. Its given me an idea for playing something similar when we have zoom calls with friends. I didn't take a single photo today.
Friday 5th June
The weather forecast wasn't great so despite protests we didn't head to the beach. I did manage to book a couple of car park slots at another local beach which is limiting numbers and a visit to my favourite National Trust property for my birthday. Although if Kipper hadn't woken me up at 6am I may not have been able to when they opened as many of the times had already sold out. Every cloud has a silver lining! May have to set my alarm for next week as we missed out on our closest property they got snapped up that quickly.
Other than that the day was pretty non distinguishable. I have very little motivation at the moment and spend most of the time just feeling meh. And being treated with contempt by the eldest. I am hoping it is just a phase! We did make some cupcakes in the morning, although I think the self raising flour was old there didn't seem much rise left. Although Kipper enjoyed icing and decorating them. We also went out for a walk locally and I planted the sunflowers that we have grown from seed. We didn't do much else in the garden although planning on spending most of the weekend in it. The fact that it is meant to be cooler is perfect gardening weather.
Blog posts this week
ha ha ….. still no closer to writing a post a day! I have been more active on Instagram though so at least I am still trying to maintain one social media platform…
My goal next week is to have more than two posts written and to try and complete one of my craft projects.
You are invited to the Inlinkz link party!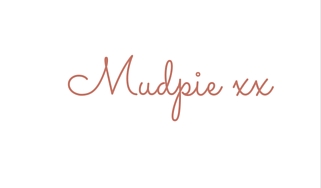 If you've liked this post please follow me on my social media channels:
Mudpie Fridays: Twitter | Instagram | Facebook | Pinterest | LinkedIn