Life seems to be getting back into some sort of routine. Albeit only very loosely this week for reasons I will explain below.  If I am honest I am not sure I really like it. I've ended this week feeling exhausted. Maybe it is the changing of the seasons or maybe it is because the uncertainty of everything is finally getting to me. Who knows. I am sure it will pass.   This week both boys went to school. Charlie going into year 4  and Harry starting his first settling sessions at the Infant School.
Monday – 7th September
The first day back, and I was, as predicted labelling the school uniform as Charlie put it on with a sharpie.  I have over the years tried lots of name labels but still seem to revert to a sharpie as we are running out of the door.  He had a good day at school and it sounds like the school has done a good job of trying to keep it as normal as possible. He has his own desk which he finds a bit odd but I think may actually help him to concentrate more. Especially since we have already had communications that the kids will go through some sort of grading process next week to assess where they are.  We kept up will all school work apart from some spellings – I was only prepared to fight so much while trying to managed two kids and work from home!  So hoping he will do okay.
Harry had an hour right at the end of the day on a Teddy Bears picnic outside with his whole class. This was a tricky affair as he just didn't want to be there. It took me a long time to convince him to go into the field and an even longer time for him to engage with some of the other kids.  Which mainly resulted in him running away from them. Not the start I had hoped for. I am not surprised since he hasn't seen another child other than his brother for six months other than once.  His teacher came over and tried to engage and we had a  good chat. The staggered approach is over the next two weeks so hopefully by the time he is in for the full day he will be happier.  I am still amazed by how different the boys are.
Tuesday – 8th September
Well, that lasted a long time. Charlie was ill in the night so now off school for at least 48 hours. Annoyingly he is fine in himself but understandably the school cant risk it.  I don't think he has been poorly the whole time we have been locked down and one day back and then boom!! He would much rather be at school and has been pretty fed up most of the day.
I had a telephone interview with Harry's teacher but there were no more sessions today. So it felt as though nothing had changed with both boys at home requesting attention while we tried to work!
Wednesday – 9th September
Charlie is still off school, but I did manage to get him to practice some of the spellings we uploaded into an app while homeschooling.  Harry had a stay and play session, no adults this time. I had a morning full of conference calls so couldn't take him. Sounds like my husband had a similar experience to the teddy bears picnic albeit adults were not allowed to stay this time. It is tricky as you have to leave them at the school gate because of COVID.  However, when he came back he was talking all about the space ship he played with and mentioned another little boy who has the same name as his brother.  Not sure if there is a child by this name, he often calls his older brother his best friend so both of us are a little sceptical. But whatever helps.
In other news, I went out for my first client meeting in six months! We were all very careful and kept to the rules with masks, social distance, temperature check and anti-bacterial hand gel.  But it was good. It reminded me why I like my job most of the time. I am not made for sitting behind a desk. After 18 years its been a hard adjustment.
Thursday – 10th September
Last day of the working week for me.  It is going to be strange going forward when I have a day to myself on a Friday. Still can't work out how I feel about it at the moment.  Charlie back to school today and he skipped out of the house. Nothing for Harry until tomorrow.  Work was busy. I had promised I would take them blackberry picking afterwards but I ended up working until early evening and so we ran out of time.    I will have to make it up to them at the weekend. Not something I missed during the lockdown.
Friday – 11th September
Harry had his first morning at school. Well if you could call it a morning he was out by  11.10. But it was the first time he put his school uniform on.  I did wonder if he may struggle with it. But he loved it and his school shoes.   I parked down where I use to park when I took Charlie to the same school and it brought back a lot of memories.   Especially as the conker trees that have been neglected recently had lots waiting on the floor for us. Pockets full he was quite happy walking up to the school. Although by the time we had reached the school gate he was a little nervous. But the teacher just took his hand and led him away to stand in line.  I walked around the back of the school and watched him.  He seemed okay albeit not really engaging with any of the other kids.
I picked him up with snacks and a change of clothes. He was the first in line and ran out with a smile on his face. Wanting to give me a very important letter that was in his bag (flu jab). We headed to our most local National Trust for a few hours.  Although I had packed snacks I was hoping to pick up a sandwich for myself at the kiosk. But the people in front got the last one!  It was only 12.30.  So had to make do with a cup of tea and a Twix.  We had a lovely couple of hours exploring.  It made me sad to realise that it will be the last Friday for us to do something just the two of us.    I am still in two minds how I feel about this. I think it will really hit home next week so I have made some plans already to try and help me deal with it.
After, all four of us went for a family dentist appointment and picked up a frozen curry from COOK. I do like their curries they are so much tastier than the supermarket variety.  Yet much cheaper than a takeaway – and probably healthier too.
Saturday – 12th September
This morning I took the boys to the park to meet a friend from school.  It is Charlies best friend but they are not in the same bubble so do not get a chance to see each other.   One of our NCT group, they are still very close. We headed to the park we had not been to before which is lovely and new and it was not very busy. The kids had a great time as there was plenty to do for both age groups.  I also got a chance to catch up with my friend.  Thankfully since we both only have two children it will be something we can continue to do going forward. Until the rules are changed again.
In the afternoon we had to wait in for Harry's new bed to be delivered. The  room has not been decorated yet and it was not meant to be delivered until the end of the month.  Thankfully we have a place we can store it.  But we can't check it until it is put together.  We spent some time on the veg patch as well. Tidying up. Some of the courgettes have got so large that I don't think they will be edible.  We dug up the last of the leeks that had started to go a bit funny.  Must remember to harvest them earlier next time and we picked some of the runner beans and prepared the onions that had now dried out in the greenhouse.
I have also rescued the largest of my sunflower heads.  The birds have been helping themselves to the seeds of the smaller ones. But I wanted to keep some so that I can grow them again next year. They are giants and are good 8ft tall.
I popped to the garden centre while Harry was in school on Friday morning and picked up some Spring bulbs. I also found some old veggie plants.  That they had been reduced so picked up some leeks and spring onions. Both of them are  Winter planting varieties and were £1 each. So  I also planted these along with the onion sets. Our Winter potatoes are showing no signs yet so they may come back out as I am not sure you can plant on potatoes that have chitted in the same year.  As we have some over Winter brassicas coming in the next few weeks.
Sunday – 13th September
Today we headed to the woods early to take some pictures for a couple of Instagram campaigns.  It was quiet and the sun was just coming through the trees. The boys had a great time building dens and swinging on a tree swing. Then we headed home and spent most of it the garden. I planted some bulbs into the front garden just some daffodils and crocus. But the ground was so hard that I only managed about  half of it!   I must admit I do not like planting bulbs there is no gratification.   I was also planning some bluebells and tulips but after today's effort, I am not sure I have the motivation. My plan is to do a little bit frequently, especially with the assumed heatwave we are due next week.
With the kids back at school the weekends feel shorter than usual.   Next week brings half days for Harry for most of the week, but then with a final full day on  Friday.  And my first without a child at home with me for the first time in over eight years.
Blog posts this week
Lacking in time this week, so have not managed to write much at all. I still have lots of plans but no time. Hoping as we get back into the routine I may find some more energy so I can write in the evenings again.
You are invited to the Inlinkz link party!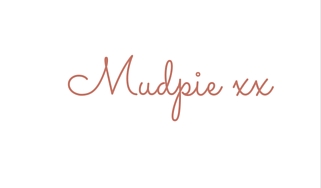 If you've liked this post please follow me on my social media channels:
Mudpie Fridays: Twitter | Instagram | Facebook | Pinterest | LinkedIn