Oil Based Sharpie Mug Gift – When Monkey was tiny it was great fun to go to the paint your own studios and get mugs done for all the relatives. On his first Christmas we made Christmas baubles too. Ours is now by far one of the most cherished decorations we own. The only problem is that although paint studios are brilliant when they are babies, there is an age when it just doesn't work. They are old enough to want to paint their own but are too young to have the required attention span!
Oil Based Sharpie Mug Gift Method
I headed to Wilkinson's to buy a cheap mug and brought some oil based Sharpies from Amazon. I was intrigued to see if the oil based ones actually work. Having known from first hand experience that normal Sharpies wash off.  We got a lovely personalised reindeer plate for Monkey as a gift and it came out of the dishwasher spotless and reindeerless!
I used masking tape to mark out the letters, cutting them out was probably the hardest part of this craft activity. Although I wasn't too worried about getting the letters identical as I wanted to look like a handmade gift. But if you do want perfection then you could use craft stickers. I also opted for masking tape because I wanted something that was as smooth as possible against the ceramic.
I had visions of monkey getting carried away with scribbling and lifting up thicker stickers with the pens. Next step let him loose with the pens…. eeek!
Oil Based Sharpie Mug Gift Results
The ink that came out was really vibrant and went on so easily, it was just like paint but in a pen. One warning is that the colours don't blend very well, so if you scribble over one colour with another it will do just that. The next step was to remove the masking tape, which I did almost straight away.
There was a bit of bleeding which I expected. That could be because the masking tape I used wasn't very good quality, or it could just be that I took the stickers off before the pens had dried completely.
However I touched it up using a cocktail stick, using the point to rub off the excess ink. I'm not sure this would work if you didn't do it straight away. I'm really pleased with the result. We left it for 24 hours before placing in the oven on 180 for half an hour. Just be warned some of the lighter colours. As the pink and orange went darker after they had been in the oven.
I am not brave enough to put it in the dishwasher and will be recommending hand wash only! Monkey really enjoyed it and its also a really quick craft. Which held his attention span, so I can see family members getting various pieces of crockery going forward…
Update – May 2015
We have also used this method successfully to create a Thank You plate. Again I brought the crockery from Wilkinsons: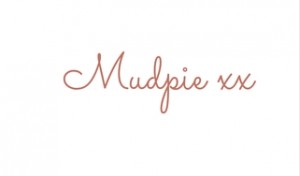 If you've liked this post please follow me on my social media channels:
Mudpie Fridays: YouTube | Twitter | Instagram | Facebook | Pinterest | LinkedIn
Oil Based Sharpie Mug Gift