If you are regular readers of Mudpie Fridays then you know that my youngest has just turned one over the weekend. Birthdays a pretty big deal here and you don't get much more important than the first one. One of the things which I wanted to do for Kipper was to make a chalkboard poster as I had made one for Monkey. It was lovely looking back over his last week and reading it to him. He was surprisingly interested in its contents and the comparison with Kipper, always the competitive one!
So incase you want to make one yourself I thought I would share how I did it, as its actually really easy once you have worked out what you want to include! You will need:
Rubber and pencil
Piece of A2 black card (the thicker the better)
Chalk pens
Before you start you will need choose your colours, I wanted to keep it simple so only used four main colours. You will also need to give some consideration to the type face you use for the rest of the poster. I found the pens I used had quite thick nibs which limited a little what I could do.
I started with writing his name at the top with a ribbon under neath, this is probably the hardest part. With the chalk pens I was able to rub out the pencil underneath without affecting the writing.
Once you have the name at the top the next step is to divide the rest of the page into sections. The sections I used are:
The date he turns one
Things he loves
His favourite foods
Something he loves to do
An update on movement – i.e. crawling, walking
His first word and other words he can say
His favourite toys
How many teeth
Weight and Height
Lullaby words
This makes it easy to just fill in all the detail. I altered pen colours between items and tried to add a little bit of interest by including graphics where appropriate such as splashes. I think this took me around four hours to do and saved a lot of money when you consider how much they cost on Etsy. It got some lovely comments at the party and many people thought it was printed.
What little details do you add to your child's parties?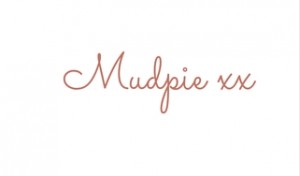 If you've liked this post please follow me on my social media channels:
Mudpie Fridays: Twitter | Instagram | Facebook | Pinterest | LinkedIn